2 Ways Royal
Denise

Rating:

( 0 Rating )
---
Another Playtech Triumph
If you want the best introduction to online video poker games, choose 2 Ways Royal. Playtech has developed a slot with in-game play that a beginner can easily understand but that also gives experienced players some fun.
Also known as Split Royals, the slot can be found on many casino sites and is easily found in an online search.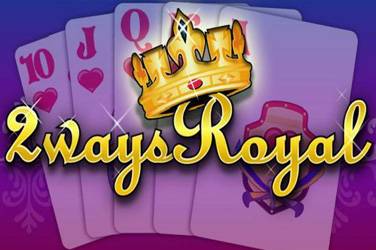 Smart Graphics
When you click to play a slot game, you want to be immediately engaged by the screen.  An attractive, bright colourful screen is part of the fun of playing video poker. With 2 Ways Royal, you're immediately captured by the regal look of purple and gold playing ground and the fine graphics.
Signing Up
To play 2 Ways Royal you need to sign up to a casino site. You can usually try the game for free before you decide you're ready to hit it with some money. It is always best to try the free game as it provides an excellent representation of how the money game plays and pays out. You can get used to the options available during the game and how the winning hands work according to the pay tables.  
When you're ready to play,  you need to make a deposit to fund your account. Each online casino has its own sign-up rules. Many offer incentives to new registrations such as a signing on bonus and also offer bonuses on future deposits. Be sure to understand the waging requirements if you choose to take advantage of bonuses. All casinos have various ways to deposit and you can also control your gambling by setting personal limits.
Game Play
The first action of any slot game is to select the denomination you want to wager on each play. When done, you click deal and you are dealt 5 cards.
Each hand is then played as you would a poker hand. If you have not played poker before it is not a good idea to play a poker slot without understanding what makes a winning hand. In the 2 Ways Royal game, the paytable sits within the game, directly above the cards.
You need to understand what the terms mean and how they translate into the cards of your hand.
2 Ways Royal helps you play each hand with "clues".  
If you have been dealt a winning hand, the cards are identified with a "held" tag. When you click "deal", only the unheld cards will play. When the hand is won, a popup box notifies your winnings and you are also informed of the hand you won in the paytable – the type of hand is highlighted.
If there is a possibility of a winning hand, you have the option to hold the cards. This is why some knowledge of poker is required. You have to understand the options you have to make a winning hand.
If you don't wish to hold any cards, simply click deal. You hold and deal until the hand is complete.
With each winning hand, you have three options. You can simply collect your winnings or take a chance to increase the payout. Select double to win twice the payout, or half double to receive 1.5 times the original payout value.
Selecting the additional wager deals a new hand. If you win the hand, the payout is doubled or halved depending on your choice. If the hand is a losing one, you lose the original payout.
Final Thoughts
2 Ways Royal is a fast play game and it's easy to follow. Novices can quickly learn how the game is played but the fun is the same as in regular poker. You never know what cards you're going to be dealt and the gamble is on which cards you hold.
---
Provider:

playtech

Category:

Video Slots