8 ball slots
Denise

Rating:

( 0 Rating )
---
A Classic Easy-Play Slot
With the look of a traditional one arm bandit game, 8 Ball Slots is a classic three-reel online slot with a distinctive billiards theme.
Simplicity
In these days of highly visual, graphics-heavy 5 reel slots with 25+ winning lines and potentially hundreds of ways to win, 8 Ball Slots is a refreshing throwback to simpler gambling. The attraction is in its simplicity. For a novice, this is the ideal 3-reel slot to start on if you want to understand the basics of online fruit machines.
There are no free spins or bonus games. There are no complicated scenarios to gamble on. There is nothing complex that a might overwhelm a novice player. It's easy to understand because all the possible winning combinations are displayed on the game screen, right above the reels along with the winning values based on your stake. If you have a winning line, the amount won is displayed and added to your balance. You don't have to collect nor have any option to gamble for a higher payout.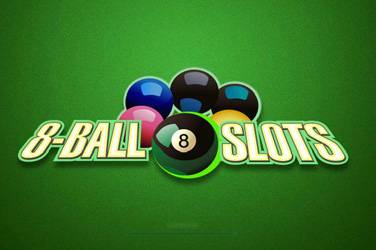 Winning Lines
The graphics of 8 Ball Slots are designed to represent pool balls and of course, the background is of green baize. A winning line is a combination of three balls either of striped or solid or the same numbers. That is, you win if you spin three solid balls of any denomination or three striped balls of any denomination, or if you spin three balls of the same denomination. Balls are numbered one to fifteen.
The ball with the highest winning value is the black eight ball. The other numbers have winning values that increase in ascending order.
The pay line is the centre line across the three reels.
Gameplay
The game starts by the player deciding on the stake. On 8 Ball Slots, the minimum stake is £0.01. The stake is adjusted up or down simply by clicking on the plus or minus next to the stake value. As with most three-reel slots with one pay line, there's a choice of two stake levels.  There is a different prize level for each stake. In this game, clicking the "bet max" button doubles the selected stake.  The maximum bet possible is the maximum basic stake doubled up.
To Play
To enjoy a game of 8 Ball Slots you have to sign up to an online casino that offers Playtech games including this one. You register/create an account and make a deposit with the many payment options available. Choose your site carefully because many casinos offer incentives to join but they usually have a condition in the form of wagerings requirement. Many bingo sites also have a casino where slots and table games can be played.
It is advisable to find a demonstration version of the game before playing for real money – especially if you are new to online gaming. The demo game will help you get used to the options and the game simulation will give you a good idea of how the game plays for real.
Good Entertainment for Beginner Gamers
If you're looking for a simple game with the feel of a bricks and mortar casino, 8 Ball Slots is a good choice. It's fuss-free, easy to play, and easy to understand and brings that little bit of casino atmosphere to online gaming.
---
Provider:

playtech

Category:

Slot Machines