Aces and Faces
Denise

Rating:

( 1 Rating )
---
Better than Jacks or Better
Aces and Faces is a simplistic video poker game similar to Jacks or Better but with additional payout potential. It's a game with one of the most impressive RTP (return to player) values around.
A Right Royal Set-up
The game ground is a regal looking mix of purples and reds, featuring two opposing king heads between the paytable. Having the paytable visible during every hand of the game is very handy. It displays the winning hands available and highlights the winning hand on a winning spin indicating how much is going to be added to your balance.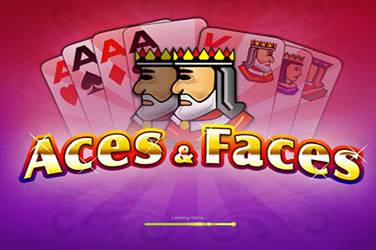 Gameplay
To play Aces and Faces, like for a night out game, you need to sign up to an online bingo site or casino offering the game in its repertoire. The choice of video poker games can be overwhelming, so it is best to play the game in demo mode before playing for cash.
The demonstration game is a replica of the actual game, so it enables you to get used to the player options and the way the game plays.
Aces and Faces is a form of draw poker. It is a format that is easy to pick up and start playing. If you have a grasp of poker hands, you'll find it even easier to understand this online game.
To play, you must first select the value of your stake and how many coins you want to play on each hand. The stake is chosen by using the plus and minus buttons. If you want a chance of winning the jackpot, you must play with five coins. The game plays with a standard deck of 52 cards.  There are no wild cards in this game.
Clicking on deal makes the machine give you five cards. You then assess the hand and decide your next move. If you have a winning hand the game will tell you – it will automatically "hold" winning cards and the next deal will only change the "unheld" cards.  If you have a potentially winning hand, you have the option to hold the cards. This is when a knowledge of poker hands helps you. You also have the option to unhold the cards the game auto holds if you are playing a different strategy to the one suggested.
The very name of the game refers to the fact that pairs of aces and face cards (king, queen, jack) are considered as a winning combination. The cards from 2 to 10 cannot form a winning combination. Winning hands are combinations consisting of aces and face cards. There is a higher prize when the player manages to get a combination of four of one of the face cards.
You can also choose to chance your luck to double the prize awarded for a winning hand. After the cards have been dealt and swapped, if you have won, you have to option to double your winnings. Choose collect to add the winnings to your balance or choose gamble. In the gamble, you get to choose whether the dealt card will be a red or black suit. You can keep doubling up by choosing the correct suit until you decide to collect the winnings.
Better Odds
This game already has a high RTP than other variants of online poker and there is the potential of higher winnings. Aces and Faces has improved payouts for the royal flush hand when playing with 1,2,3, or 4 coins. This means bigger payouts without having to wager the maximum.
No Bonuses
There are no bonus rounds with Aces and Faces but if you want a fast, easy game with good return, this is a great game. It is a popular game and can be found at many online casinos.
---
Provider:

playtech

Category:

Video Poker