Alchemist's Lab
Denise

Rating:

( 0 Rating )
---
The Appliance of Science
If you crave some time away from the complicated 5-reel slots with multiple pay lines and bonus games in favour of some good-old fashioned, one-arm bandit type action, choose Alchemist's Lab. This Playtech game is simple to play, you don't have to make too many choices, and there's still plenty of fun, with an extra surprise.
Potent Potions
The basis of the game is the ancient science and belief of alchemy which sought to turn base metals into gold.  The slot takes you inside an alchemist's workroom complete with potent potions, test tubes with brightly coloured liquids, and clouds of smoke. The pay table is clearly displayed on the pages of a spell book and remains in view during game play. You'll never uncover the secrets of alchemy but you can turn coins into more coins.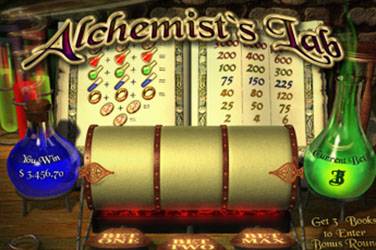 Experiment
With all online slots, no matter how dimple or complex, it is best to try the game in demonstration mode before playing with cash. Playing Alchemist's Lab in demo mode gives you the time to familiarise yourself with the game and also provides a good idea of the real gameplay. It simulates real play so will give you some idea of the regularity of winning spins and bonus game incidence. When you're happy you want to become a wizard of the reels, deposit funds at your favourite casino site and get ready to turn your base metal into gold.
Gameplay
There's nothing complicated here. Game symbols include vials and test tubes of red, green, and blue potions, rings, spell books, and coins and the reels spin in play. There is only one payline and it is the centre line. 
The coin value is fixed, and you choose to play the single coin, or double it, or triple it.  The wager value is selected by clicking on the appropriate bellow which are lined up below the reels.
All That Glisters is Not Gold
Few one line slots have such an impressive table. The gold coin is the most valuable symbol and you win when just one coin appears on the win line.
The jackpot pays out on three gold coins on the centre line. This jackpot is 3,000 coins for the basic stake and rises to 6,000 coins for double stake, and 10,000 coins for the triple stake. That is potentially a huge jackpot for a simple game. For a £1 coin value with maximum bet (triple), that's a jackpot of £30,000.
Unlock the Secrets of the Alchemist's Lab
Quite unusually for a three slot game with one payline, Alchemist's Lab has a bonus game. When three spell books appear, the bonus game is triggered. You are diverted to a new screen loaded with ten different potions that all have an unseen value. Pick three potions, and they combine in a cauldron to form a gold ingot. How successful you were in picking the combination of potions determines the size of your ingot and the value of your bonus cash prize.  
The graphics on the bonus game are excellent (as for the whole game really) and it really is a great bonus for what could be said to be a little game.
Simple but Diverting
Alchemist's Lab provides a nice gentle diversion with a decent chance to win in an uncomplicated fashion. Much like Aces and Faces, this game is probably for the purists who want a feel of a bricks and mortar casino rather than those looking for the challenge of 5-reel slots with a multitude of options within the gameplay. And, there still the chance of a big payday!
---
Provider:

playtech

Category:

Slot Machines