Bonus Bowling
Denise

Rating:

( 0 Rating )
---
Do you love to hear the clatter of the ball as it rolls down the lane and the satisfying thuds as those pins fall over? Playtech brings you all the thrills of the bowling alley in the Bonus Bowling table game. Is it a slot game? No! Is it a scratch card game? No! It is an interesting game of chance, a game of random numbers based on ten pin bowling.
Diversion from the Norm
Bonus Bowling is a great game if your usual casino experience has become a little jaded. Maybe you want a break from all the brash and flash of highly animated, brightly coloured slots with five spinning reels, multiple paylines and endless ways to win. The simplicity of Bonus Bowling takes you into a gentle world of pitting your wit against the casino in a gentle format. It will probably also appeal to those who generally prefer three-reel slots like Bermuda Triangle over the five reels.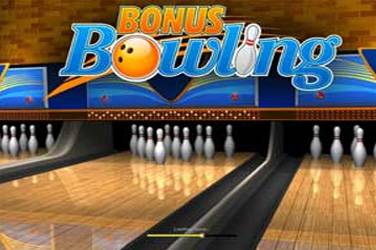 Right Up Your Alley
The premise of the game may be simple but Playtech has not skimped on the visuals. You're taken directly onto the lane close to the pins with the neighbouring lane in shot. The wooden lanes look realistic, even down to the reflection of the overhead hoardings. The scoreboard and the playing area are a feast of blue and gold. On such a simple game, there's no real room for bells and whistles but the overall look is appealing.
Stri-i-i-i-ke
The idea of the game is that you predict the score of a bowler. And let's just say, this is no championship level bowler. Their performance is very haphazard – which of course it has to be to create that thrilling element of chance. And, for those who have never played ten pin bowling for real, the player's score is a combination of two throws. So, your wager will also cover two throws.
The scoring principle is the same as in the real game but in small spreads.  Your options are to wager that the throw will score
Between 0 and 3
Between 4 and 6
Between 7 and 9
There is also an option to bet on a Spare – this is when all the pins are knocked over in two throws, and a Strike which is when all the pins are knocked over on the first throw.
You can bet on one, all, or any combination of the five potential outcomes. And, you can also choose to wager how much to bet on each score. So, for example, you can bet £1.00 on a strike or you can bet £0.20 on each of the five possible scores for a total bet of £1.00. The maximum bet per score is £100 except for a Strike which is £25.  That means you could theoretically bet £425 per play.
The odds for each bet are:
Between 0 and 3 – 2:1
Between 4 and 6 – 3:1
Between 7 and 9 – 5:1
Spare – 10:1
Strike – 25:1
To play, click the Throw button. Watch the ball roll to the pins and knock them over. The game pays out according to your wager.
Bonus Feature
Keep your eye out for the Golden Frame. It pops up periodically and if you score a strike on that play you are rewarded with an extra cash prize of 10 times your wager.
Game Over
Bonus Bowling is not going to light your gambling fire, but it is a nice diversion for a little while.
---
Provider:

playtech

Category:

Arcade