Medusa's Gaze
Swathi

Rating:

( 0 Rating )
---
For those players who are fond of blood pumping arcade games, then Medusa's Gaze is a must-try. It is an exciting game based on Greek Mythology. Meet Medusa, a powerful and hideous woman who has living snakes for hair.
She is one of Gorgon's sisters and was feared by many men. Many heroes tried to overpower her, only for them to be turned to stones. Eventually, she was beheaded by Perseus, son of Zeus. He used her head as a dangerous weapon for all his enemies.
 Medusa's Gaze takes you deep into her creepy castle, where you will meet statues of all kinds. Be careful and do not forget that those statues were once people like you. You need a lot of bravery and cunning skills to defeat her. And when you finally do, an amazing prize will be waiting for you.
Playtech has done an amazing job by taking this fascinating story and turning it into a masterpiece. Players are invited to try their luck and collect some impressive winnings from the game.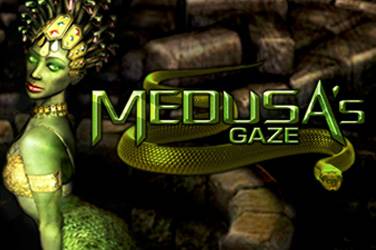 Steps for Playing
Medusa's Gaze, just like most online arcade games and Ladbrokes Bingo is simple to learn and needs less time for you to be familiar with all the action. It has so many colours, motion, and cubes, and this might be overwhelming for a beginner. However, it does not have to be difficult.
This is an easy-to-play game. It requires no expertise but you will need to learn a few basics to understand it. Medusa's head is placed at the centre of the table and different colours are surrounding it. Your main aim is to try to land a winning combination to receive a prize.
It is inclusive of four reels and 12 paylines. There are blocks on the paylines made of nine colours. A control panel is also included to make it easier for the player to set bets, view the paytable, and activate the reels. An Autoplay option is also available with the players who enjoy participating in London Bingos in this manner.
You are required to choose a wagering amount within 0.2 and 50 through the BET button. Once you are comfortable with that amount, it is time to begin the game by pressing the PLAY option. The drums will then be launched and will rotate around Medusa's head. Try to match colours to receive payouts set according to the paytable.
The blocks that were formed with the winning combination will then be removed and new ones will fall in place. If another combination occurs, the winnings will double and this will go on as long as colours are matched. The maximum possible payout in Medusa's Gaze is 10,000 coins.
Extra Features
Playtech is widely known for the incredible special features in their games, and they have done so in Medusa's gaze. It contains the following bonuses:
Wild Square: this is represented by a white square, which acts as the normal wild symbol in slot machines. It is the main key to landing more and frequent big wins. It will replace other colours and try to match a set. Bear in mind that you do not have to make any combination with the white wild square.
Multiplier Bonus: Keep an eye on the multiplier wheel as it can double your winnings. The wheel is found at the base of the screen.
Conclusion
Get your mirrors ready and prepare yourself for a perilous adventure in Medusa's Gaze. Try to dodge the stare or else you will be turned to stone. However, a big payout worth 10,000 coins is waiting for you if you get victorious and defeat this evil-looking woman.
---
Provider:

playtech

Category:

Arcade