Mini Roulette
Swathi

Rating:

( 0 Rating )
---
They say that the best things in the world come in small packages. If that is so, then the Mini Roulette from Playtech is a good game. It is much smaller than the other roulette variants and is offered in Mecca Bingo.
If you think you have played all the types of roulette and that nothing more can surprise you, then you have not yet tried Mini Roulette. Playtech has created something distinctive that no other developer thought about before.
It closely resembles the European roulette but instead of 37 pockets, the Mini Roulette has 12 numbers and one zero. This means it has 13 pockets in total so you have higher chances of receiving a payout. It also offers wide betting limits but this will vary from one casino to the other.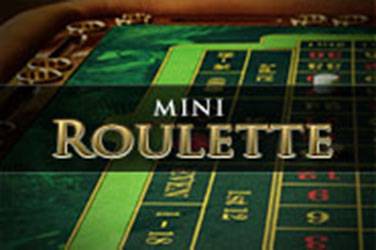 Gaming Experience
The Mini Roulette is the smallest variation and it cannot go beyond that. But do not underestimate its gaming experience, since, like all other variants, this one too captures the spirit.
The rules are not that different from the European roulette and you can still place bets like odd or even, black or red, corner bet, street bet, and several others. However, the big difference is on the payouts. Since Mini Roulette has higher chances for payouts, then it rewards much smaller winnings.
 The first thing you will notice when you launch the game is its simple graphics and layouts. This is a plus to new roulette players, as they will understand the game in seconds. The table and the wheel are designed neatly to make it easier to navigate.
To begin playing, you first need to select your bet levels. The minimum amount is £0.10 while the maximum is £100. The table's maximum limit is £10,000. Select one or more numbers you think the ball might land on the table on the right side. You can always delete the bets you have placed through the "Clear all bets" option.
A DOUBLE button is available to anyone who wishes to multiply their bets by two. There is a "spin" button just at the right bottom side. Press it to start the game after which the ball will spin and drop into any of those 13 pockets.
You can also double and spin the previous option. Otherwise, you can use the AUTOPLAY option, which is set at the same place as the SPIN option. Simply hold the latter to activate Autoplay.
It is worth mentioning that Mini Roulette is available in the demo version. This is a great opportunity to learn and practice the title before real play.
Table Limits and Rules
Despite its compressed size and layout, Mini Roulette is suitable for all kinds of bets whether big or small. It is wise to familiarize yourself with the rules and the paytable before playing.
| | | | |
| --- | --- | --- | --- |
| Bet Type | Minimum Bet | Maximum Bet | Payout |
| Straight Up | £0.10 | £100 | 11:1 |
| Split | £0.10 | £200 | 5:1 |
| Street | £0.10 | £300 | 3:1 |
| Corner | £0.10 | £400 | 2:1 |
| Columns | £1.00 | £1,000 | 2:1 |
| Half Dozen | £1.00 | £1,000 | 1:1 |
| Odd/Even | £1.00 | £1,000 | 1:1 |
| Black/Red | £1.00 | £1,0000 | 1:1 |
Note that the value of chips ranges from £0.01, £0.1, £0.5, £1, £5, £10, and £10.
Special Features
Like most Playtech games such as the King Kong slot machine, Mini Roulette also features a Turbo Mode. This is accessible from the Settings menu on the top right. Use this to fasten things and view winnings faster. This means you will not have to wait for the ball to roll down but instead view the place it has landed immediately you press spin. It is a good chance for anyone who wants to place more bets but faster than the normal pace.
Summary
Regardless of its "mini" size, Mini Roulette delivers excitement and thrill effect like any roulette variant. It is the best version for any player looking forward to higher chances of winning than the usual.
---
Provider:

playtech

Category:

Arcade