Pink Panther
Swathi

Rating:

( 0 Rating )
---
Casinos and slots are a never-ending love story and if you are a slot lover then this game can be your final destination. Playtech's approach to re-creating your favorite cartoon character as your casino partner is highly appreciable and noticeable. This variant of slots with vibrant colors and amazing tune in the background has reached to the needs of the players to a very high extent. 
With amazing rewards and lots of bonuses offered, the Pink Panther game is a new center of excitement. Playtech, with this slot variation, has made it easier for players to earn as much as they can. Along with this, the interface is another reason to love this game. 
How to play the game?   
The game is made more attractive by its blue and pink colors, players find it fascinatingly fun. On both the side of the reels, the pay lines are mentioned. The gamers can start using the play lines by selecting the number of their choices. Once you spin the button, on the right bottom corner, you will see the rest of the colors.  
The coins which are displayed in the Pink Panther game are 01, 05, 10, 25, 50, 1.00, 2.00, 5.00. You can play the game from .40p per spin to 200 per spin also. You get a lot of slots as options so you can participate according to your budget. You can also hit the bet max button to bet on all the 40 lines and 10 coins altogether.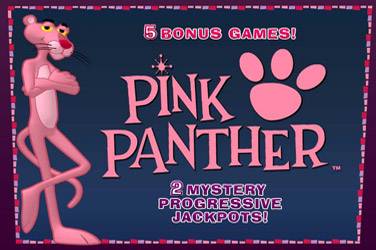 Graphical Interface   
With a blue and pink dominating background and an astonishing tone, the interface keeps people more engaged in the game. The interface is simple and easy to understand. It consists of 5 reels–like with the Halloween Fortune–and 40 lines with bombs, Pink Panther characters, and alphanumeric values. The interface also has buttons at the bottom to ease the selection of betting and spins. No such strategies and rules will help you out, all you need to do is try your luck with such a beautiful display of the game.  
Winnings and bonuses offered     
This game has some crazy and unbelievable rewards and bonuses for its gamers. It offers you a chance to win exciting rewards at every single step. The game offers five randomly triggered bonus games. Let us understand the bonus offered in the game:  
Pink pow bonus
Pink Panther blows up 2-6 symbols and turns them into the wild card
This wild card substitutes the symbols except for the scatter symbol
These cards help in earning extra rewards apart from the one you are winning
This game has two progressive jackpots schemes, minor and major
It increases the chances of winning high rewards from jackpots by increasing your bet
Crack the pink bonus code game
You have to choose between 10 safes to increase free games and rewards
If you open a bomb then you will only get the prizes of the bomb safe
Color pink bonus game
It features two characters: the Pink Panther and a Little Man who paint a wall of numbers in blue and pink colors respectively
Number with pink color is added to your cash
You can repaint up to 3 times if not satisfied with earlier paintings
Wheel of pink bonus
It has two wheels
The outer wheel determines winnings and inner wheels determine chances of re-spin
Pink trail bonus game
Bonuses are offered by the number of footsteps
Little man will search a diamond and you are offered rewards as much as footsteps he will take
Ultimate Thoughts   
If you are an enthusiast slot lover and want to try your luck then this variant of slots is the best place for you. The excitement of reels and winnings offered makes this game more worthwhile and playful. If you have not gone through this variant of slots, then it is the right time to say bye to traditional slots and switch to the Pink Panther slot. However, you should read some online bingo tips to get the best out of this and other games. This would probably help you maintain a good profit margin.   
---
Provider:

playtech

Category:

Slot Machines