Tres Amigos
Swathi

Rating:

( 0 Rating )
---
Desirous of building a bond that lasts forever? Or, looking to spark the fire of friendship? Tres amigos' is a classic example of how to celebrate and value a true and lasting union. 
Of course, almost everyone desires to be loved, and here's a slot machine game that can make that wish come true. The game is a celebration of friendship, and players have a lot to gain from this casino game. This slot game promises a satisfying experience for those that want to take their friendship to another level. And like friendship, the game does not limit you since it is compatible with various payment options.
Beautiful colours and landscape
When users load up this game for the first time, they see different bright colours to lighten up their hearts. Besides, players are treated with green, yellow, and red colours, which cover the screen. The design is extremely beautiful and adds life to this unique slot machine. Another outstanding setup is displaying the Mexican culture with special reference to the guitars, tacos, and jalapeños.
Three friends on the screen
The slots appear on the bottom half of the screen, displaying the three classing reels. Users can quickly detect the paytable in the top right corner of the screen. With this, players have no difficulty locating their winnings. Each displayed character has specialized animations that wink at the audience. The charm exuded from this unique display makes the game lovable and thrilling to the audience.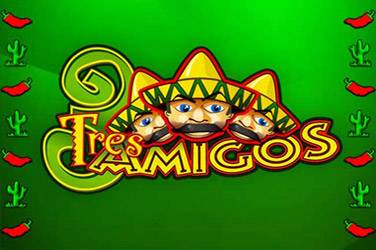 Smooth and straightforward control
Tres amigos is a classic styled slot game; hence, it doesn't need the usual wild symbol. Besides, this game is one of the best for newbie players because of its smart and easy controls.
Below the reels, users can spot the bet one, bet max, and spin options. The (+) and (-) symbols found on the bottom left let players adjust their bet value. Still, on the left of the reels, one can quickly spot the option to check the total bet. Likewise, on the right side of the reels is a display for users to see their winnings. Generally, the game offers a cool interface that reminds you of playing at some local bingo.
Three reels but a single pay line
This is one of the few slot machines with three reels with one pay line. But, players can expect to see more elements that add extra flavour to the game. For example, on checking the paytable, one can see plenty of cool features like lighting systems to indicate winnings. Overall, the fine details of the slot differentiate it from other games out there.
Hot Jalapeño, incredible rewards
This game promises satisfying rewards, and that makes it more interesting to new and advanced players. A single land on jalapeño results in a big win and plenty of bonuses. But that's only a preamble. It takes things a little higher for the users with multipliers and plenty of free spins.
Once there is a win, players are treated with a unique Mexican tune that is quite pleasing to the ear. With this treatment, audiences will always have a satisfying experience while betting with this amazing game.
Throes of nostalgia
Classic styled slot machines offer users a glance into the history and evolution of casino games. Of course, those who appreciate these types would have a deeper understanding of why this game still has a place in modern-day casino slots.
Unlike other competitors, this slot game has a unique spice that ensures players experience the true fire of friendship. It has top-quality visuals that make this casino slot a one-stop game for everyone.
Tres amigos are perfect for those that prefer classic-styled slots and want to improve their friendship bond.  
---
Provider:

playtech

Category:

Slot Machines