Wings of Gold
Swathi

Rating:

( 0 Rating )
---
Many people still wish they could develop wings and fly. Yes! That can be a good reason to try the wings of gold slots. This game allows players to create several winnings with their 20 pay tables. It also has five reels with plenty of fighter jets flying in the air.
One functional aspect of this casino game is how it can keep gamers in the air. The wild symbol and scatter icons lets users earn up to a hundred free games. Besides, there is the extra win feature that enables players to increase their engine power to make bigger wins.
The sky is the starting place
Always heard that the sky could not be a limitation? The wings of gold can make this come true as you burst through the skies like a comet. Of course, many users can learn a few flying tricks after making dozens of spins with this slot machine.
This slot is for gamers desiring to see the world in the pilot's eyes. Outstanding symbols on the reels include several numbers and letters. As players keep spinning, the machine plays the sound of air blasts, adding more action to the game. Still, on the reels, users can engage powerful fighter jets such as the F-16 types. Gamers will notice two good-looking pilots control these flying machines.
Flying and winning
Sometimes it takes a lot of effort to learn to fly, but spinning this machine is quite easy. To play and win, one should determine:
How and when to use the 20 pay lines
How much should one bet per active line
Ideally, there are only three wager credits available for use. These are:
Still, this casino game offers plenty of betting permutations to improve ones' winning opportunities. Perhaps, our online bingo tips can help you get better at winning.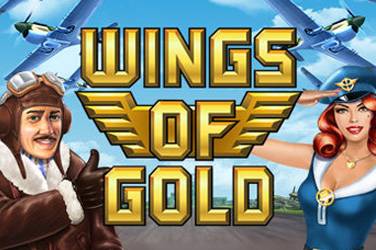 Whoever aligns the symbols gets a reward
Gamers get awarded with a multiplier when at least three scatter symbols appear in a given reel position. Three of these logos can multiply one's bets by four. And a five will increase a player's total stakes by twenty times. The biggest award is when a user gets five logos, increasing the player's total bet value a hundred times. For those aiming to hit the jackpot, a top line bet of five credits is the answer.
Golds on wings
Wings of gold have some unique features to help players' winnings skyrocket. Users can always look out for the pilot icon, which also doubles as the wild symbol.
It is worth mentioning that the wild pilot can replace every other symbol except the wings of gold. As expected, the gold icon enables players to pick a medal of honour when three symbols appear on the reels. Then, the chosen medal will appear for sometimes on the reel to initiate a few free spins.
The number of games received is dependent on the number of times that the selected medal appears. Again, players can win around 20 to 100 free spins. Above all, the wild pilot icon doubles the wins and still expands to take over more reel slots.
More win modes
Once the player toggles the extra win gameplay mode, the expanding wild symbols get activated. This feature is the same as riding the jet in full throttle, causing it to keep expanding to cover more reels. Of course, this will improve players winning chances. The only issue is the extra win mode can only work with all 20 pay lines while sapping half of one's original bet value.
Reach the higher skies
Gamers that want extra slot machine thrills will greatly appreciate this casino game. This game promises superb adrenaline rush as players climb higher in flight. The game's bonuses keep surging, allowing gamblers to increase winnings extra free spins. If you found Wings of Gold useful, you may also want to see Rock n Roller, which is also a thriller.
---
Provider:

playtech

Category:

Slot Machines